Elizabeth Newman, Executive Director
Elizabeth embodies the spirit of our Children's Academies.  Her unique experience as a student, teacher, manager, director and now parent of multiple children at the academies!  Elizabeth's face even served as the logo of the Academies for most of Maryville Children's Academy's formative years! Beginning in 1993 as a Pre-K I student, Elizabeth and her siblings spent countless hours making memories at Maryville Children's Academy, both during and after work hours.  Since graduating MCA, Elizabeth has earned a Bachelor's Degree in Business Management concentrating in Entrepreneurship at the University of Tennessee, and garnered experience in almost every role at Westland, Ebenezer, and Maryville Children's Academy before ascending to the role of Executive Director in 2014.  As the Executive Director, Elizabeth oversees all three centers while working together with our incredible teachers and Founder to provide the best childcare East Tennessee has to offer.  Her mission is simple: enhance the lives of every student, parent, and teacher she encounters by creating an atmosphere of love, confidence, and capability.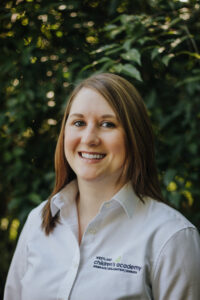 Ashley Raby, Curriculum Director 
Ashley Raby is originally from Minneapolis, Minnesota.  She has a Bachelor's Degree in Elementary Education and has worked in education since 2009.  She started teaching in the Pre-K One classroom and is currently the Director of Curriculum for all three of the centers.  Curriculum is the backbone of early childhood education.  We make continuous changes to our lessons, adapting to new ways of teaching and learning in our centers!

Katelin Giordano, Director
Director Katelin Giordano, born and raised in Clearwater, Florida, has dreamed of teaching children for as long as she can remember. In pursuit of that goal, Ms. Kate graduated from Liberty University in 2018 with a bachelor's degree in Early Childhood Interdisciplinary Studies.  Ms. Kate has now been a part of the ECA family for five years. She cared for our toddlers and infants while pursuing her degree, and upon graduating, worked her way to Assistant Director. She has loved working with our families and their children in that capacity for more than two years where she displayed her dedication to our families and passion for their children!
At home, Ms. Kate loves spending time with her husband, her three dogs, and her friends. She loves exploring and experiencing new things, decorating, and antiquing!  Her curious nature and adventurous spirit color everything she does and she is incredibly excited to bring those qualities to the Director role at ECA.
Samantha Milne, Assistant Director
Samantha Milne relocated to Knoxville 3 years ago from Florida. She grew up in a large family, so being with children feels like home to her. Every job she's worked has been with children. From babysitting, nannying, to teaching; she's been working with children for 19 years. She graduated from pinellas technical education center in 2011 with her CDA and Center Operations Certification. She has one son who currently attends Ebenezer. When she's not working, she's spending time with her son, hiking, or painting.  Watching children grow and develop in an incredible honor. She finds great joy in watching children learn and grow into their own individual personalities. She is excited for the future and getting to know all the children and families at Ebenezer.
Ebenezer Children's Academy - 1532 Ebenezer Road, Knoxville TN 37922
Call Us Today at 865-691-8552