Elizabeth Newman, Executive Director
Elizabeth embodies the spirit of our Children's Academies.  Her unique experience as a student, teacher, manager, director and now parent of multiple children at the academies!  Elizabeth's face even served as the logo of the Academies for most of Maryville Children's Academy's formative years! Beginning in 1993 as a Pre-K I student, Elizabeth and her siblings spent countless hours making memories at Maryville Children's Academy, both during and after work hours.  Since graduating MCA, Elizabeth has earned a Bachelor's Degree in Business Management concentrating in Entrepreneurship at the University of Tennessee, and garnered experience in almost every role at Westland, Ebenezer, and Maryville Children's Academy before ascending to the role of Executive Director in 2014.  As the Executive Director, Elizabeth oversees all three centers while working together with our incredible teachers and Founder to provide the best childcare East Tennessee has to offer.  Her mission is simple: enhance the lives of every student, parent, and teacher she encounters by creating an atmosphere of love, confidence, and capability.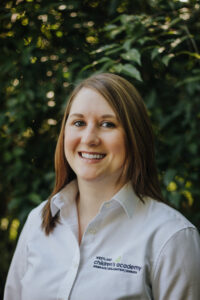 Ashley Raby, Curriculum Director 
Ashley Raby is originally from Minneapolis, Minnesota.  She has a Bachelor's Degree in Elementary Education and has worked in education for eleven years.  She started teaching in the Pre-K One classroom and is currently the Director of Curriculum for all three of the centers.  Curriculum is the backbone of early childhood education.  We make continuous changes to our lessons, adapting to new ways of teaching and learning in our centers! 

Kaitlin Lippert, Director
Director Kaitlin Lippert relocated to Knoxville, Tennessee in 1996 from the Philadelphia, Pennsylvania area. She graduated from Tennessee Tech University in 2010 with a Bachelor's Degree in Elementary Education and joined the Maryville Children's Academy family in 2012 where she worked as the Kindergarten Readiness teacher until 2016. She then became a member of the management team. Kaitlin and her husband Jason live in Maryville with their two sons. Her interests include watching sports (especially baseball and football), cooking, and spending time with her family.

Katelin Giordano, Assistant Director
Assistant Director Katelin Giordano has worked and volunteered with children for as long as she can remember, so much so, that she decided to make a career out of it. She finished her Bachelor's Degree in Early Childhood Education this past year. When she's not at work, you'll find Katelin at home with her husband and three dogs. They hope to expand their family by adopting in the near future.
Ebenezer Children's Academy - 1532 Ebenezer Road, Knoxville TN 37922
Call Us Today at 865-691-8552